My trip to Australia
In early January 2001 I booked three weeks off in late April / May so that I could do part of my LE-JOG walk. Unfortunately in late February 2001 a foot-and-mouth outbreak started in Britain, which meant that almost all footpaths were closed to the public. When it became obvious that the epidemic would not be over by the time I had booked my holiday, I cancelled any plans to do the walk.
In mid-March my girlfriend, Sam Green, went back to her native Australia for a few months. A good friend who works for an airline tried to get me some cheap tickets, and so I arranged to go over and see Sam. Unfortunately the cheap tickets fell through (due to me being totally slack and not being able to arrange a few things in time). However I still decided to go through with the trip.
This file describes the trip - the high's, the low's, and the general in-between things.
---
02/05/2001
Today we went into the centre of Melbourne for a look around. The city has a very nice atmosphere - we went to a sidewalk cafe in Swanston Street for a bite to eat which was a very enjoyable experience - they are not the norm here in the UK. We then walked around the centre of Melbourne for a long time - it is a nice city but is not really of note architecturally. Sam and I went looking at digital cameras in duty free shops, and it turns out that I could get one for about 100-150 pounds less than I could in the UK, although after much prevarication I chose not to get one.
There was one place that really impressed me, however - Sam and I went into a shopping centre off Swanston Road to find a large centre concourse area with a domed roof high above. Underneath the domed roof was a shot tower - giving an impression of exactly how large the domed roof of the center was. The whole effect was very impressive, and slightly reminiscent of the way that Crystal Palace was designed to encompass existing fully-grown tress in Hyde Park.
Later on we went up the Rialto Tower and viewed the city from the 55th floor observation platform. The view was quite spectacular - Albert Lake (the home of the Australian Grand prix) was clearly visible, as were the various football and sports stadiums. The River Yarra which runs through the centre of Melbourne was also prominent, and I enjoyed trying to work out the relationship between the river, the bridges and the surrounding city.
After we came down from the tower we walked around again for a litle while before ending up near Flinder's Street station and catching a tram to the Bayside area. Riding on the Melbourne trams is a really nice experience, although it would take me a while to get used to driving a car alongside them. The tram system is also quite comprehensive and well-established, and seems a very practical alternative to driving into town from the inner suburbs of the city.
I was very surprised to find out the Melbourne has it's own underground railway line, although it has only three stations on it.
| | | |
| --- | --- | --- |
| | | |
| AE19 The view from the Rialto Tower Observation Deck in Melbourne. | | AE14 The view from the Rialto Tower Observation Deck in Melbourne. |
| | | |
| --- | --- | --- |
| | | |
| AE11 The Rialto Tower. | | AE13 The shot tower with the shopping centre dome above it. |
---
03/05/2001 (192,240 Km to 192424 Km)
We woke up early and completed all our packing - in my case this was simple as I had not unpacked much of my gear from the flight over. After a quick breakfast Sam's dad drove us to the campervan hire center, situated in Northern Melbourne. When we got there we realised that we had a little momentary difficulty, which was only solved when we walked for a mile up the road to a shopping mall to get some cash out.
Once this problem has been solved we set off at about 10.20. From the campervan hire center we headed southwestwards to the town of Geelong where we stopped at a supermarket to provision the van.
Our first proper stop of the trip was at the Jirrahlinga Koala and Wildlife Sanctuary, situated on Taits Road in Barwon Heads. After going around the sanctuary in totally the wrong direction Sam got to cuddle a hairy Wombat - it was difficult seeing which was my girlfriend! There were also many other animals there that I have never seen before, from Kangaroos and Wallabies to Dingoes and Emus. This was an excellent start to the trip and it set me in just the right frame of mind for what was to come over the next couple of weeks.
We ended up staying at quite a nice camping site in Lorne, and we got a nice spot by the river and got to organise the van. The weather today was quite nice, with some hit sun and a few scattered clouds. Lorne also introduced to me another Australian novelty - public outside barbeques which anyone could use.
| | | |
| --- | --- | --- |
| | | |
| AE29 Sam holding a wombat at the wildlife reserve | | AE28 Kangaroo at the wildlife reseve. |
| | | |
| --- | --- | --- |
| | | |
| AE20 Kangaroos and wallabies at the wildlife reseve. | | AE30 The beach at Aireys inlet. |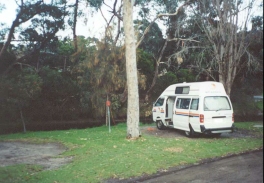 AE34 The campervan at the campsite in Lorne.
---
04/05/2001 (192, 424 to 192,675 Km)
We ate breakfast and set off from the campsite in Lorne at about 09.30. We headed east along the Great Ocean Road, stopping at Appolo Bay for a short period to look around and do a little shopping and look around the visitor centre.
We then headed eastwards again to the lighthouse at Cape Ottoway. It cost $8 per person to enter the lighthouse area, so we did a five minute walk up to a viewpoint which had some fantastic views - the whole area around Cape Ottoway was forested, and the contrasts between the greens of the forest and the deep blue of the sea was beautiful.
We then drove along the Great Ocean Road to the Twelve Apostles - a dramatic series of sea stacks in a lovely setting, although too touristy for my liking, with a wide paved footpath leading from a visitor centre to the viewpoints, and multidinous gaggles of Japanese Tourists seemingly everywhere.
We then drove on westwards to Loch Ard Gorge, the site of a famous shipwreck that had only two survivors. We stopped at a campsite in Warrnambool and got a spot right next to the beach - you just had to climb steps over a sand dune to get to it.
| | | |
| --- | --- | --- |
| | | |
| AE35 Looking east along the Great Ocean Road leaving Lorne and going into the Ottoway Ranges. | | AF15 London Bridge |
| | | |
| --- | --- | --- |
| | | |
| AF09 The 12 Apostles. | | AF01 The view from the Cape Otway Lighthouse viewpoint. |
---
05/05/2001 (192,675 to 192,952 Km)
After a spot of breakfast we headed west from Warrnambool along Route 1 to Port Fairy, which is a very attractive little village with a fair few historic houses. After a short break to stretch our legs we proceeded west to the town of Portland, which is where Sam's grandfather we born. After saying hello to a few ghosts we drove north (the first northwards drive of the trip) to the little town of Heywood for a fish and chip lunch.
From Heywood we headed northwards to Hamilton and then Dunkeld. Whilst we were driving to the west of Dunkeld we got our fist sight of the Grampian mountain range in the shape of Mount Sturgeon and Mount Abrupt - two very prominent hills. After calling in at the Tourist Information office in Dunkeld to obtain information on camping in the Grampians we proceeded north along a good quality road into the Grampians National Park.
After a little deliberation we decided to stop at the Jimmy creek campground, which was set in a clearing in the woods about a third of the way between Dunkeld and Hall's Gap. This led to a truly spectacular evening, with a campfire roaring away whilst we fed a couple of wild grey Kangaroos that seemed to be quite used to campers. This was my first real taste of outdoor Australian life, and it is something that I could definitely do more of.
| | | |
| --- | --- | --- |
| | | |
| AF21 A Kangaroo at the Jimmy Creek Campground. | | AF19 Mount Abrupt and Mount Sturgeon. |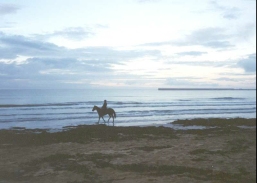 AF16 A horserider on Warrnambool beach.
---
06/05/2001 (192,952 to 193,309 Km)
I woke up at 06.00 and without disturbing Sam went and put some more wood on the fire, which was still glowing embers. The experience of watching the sunrise as I was collecting firewood and stoking the fire was awesome, The Kookaburra's started sounding off about 30 minutes before dawn, and the amazing sound of their laughter added to the atmosphere. We set off early after Sam had cooked breakfast and drove up to Hall's Gap for a quick look around. It was very touristy (there was a wine festival on) and not very attractive, so we drove on to Stawell and then Horsham. We stopped for a while in Horsham and did some shopping at a supermarket and went into a Tourist Information Office that was staffed by a man who had a very heavy American accent! We then had lunch at Warracknabool before driving along some very straight and bumpy roads to the town of Birchip. We then continued on to a campsite at Swan Hill, on the Murray River. A man two plots down at the site had just caught a large cod, and Sam and I shared a piece later on.
| | | |
| --- | --- | --- |
| | | |
| AF23 A path through the woods near the Jimmy Creek Campground. | | AF30 The Murray River at Swan Hill. |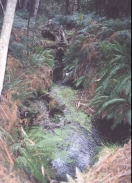 AF28 Jimmy Creek
---
07/05/2001 (193,309 to 193,491 km)
We spent the morning in Swan Hill - initially at the doctors so that Sam could have her arm (which was aching) looked at, and then at the Swan Hill Pioneer Settlement where we had an hour's trip down the Murray River on a paddleboat - excellent fun. We then explored Swan Hill for a while before heading off eastwards at about 13.30. We had a thirty minute rest in Kerang before driving another ninety kilometres to Echucha. Whilst there we nipped into the Tourist Information Office to find places where we could go bush camping. We looked carefully at the map that they provided before settling for a little wooded area called Piantas Bend, on the banks of the Murray River about five or six kilometres west of Echucha.
| | | |
| --- | --- | --- |
| | | |
| AG01 The Murray River viewed from the paddlesteamer. | | AG00 The Murray River viewed from the paddlesteamer. |
| | | |
| --- | --- | --- |
| | | |
| AG05 Campfire beside the Murray River at Piantas bend, near Echucha. | | AF35 The Murray River viewed from the paddlesteamer. |
| | | |
| --- | --- | --- |
| | | |
| AF34 The Murray River viewed from the paddlesteamer. | | AF31 The Murray River viewed from the paddlesteamer. |
---
08/05/2001 (193,491 to 193,635 km)
After a little local difficulty getting out of the woodland at Piantas Bend we went into Echucha for an hour to look around and fill the campervan with fuel. At 10.00 we set off for Cobram, the place that Sam had most been looking forward to visit on the trip. We arrived earlier than we had expected and we each had a pie from a local bakery before heading off for Big Tom's Beach, which can be found at the end of Wondah road in Cobram. We lit a fire at about 13.30, which was veru early but fortunately there was an abundance of wood about die to the floods that had hit the Murray River earlier in the year. We then sunbathed and enjoyed ourselves beside a roaring fire until sunset. The only upset in an otherwise lovely day was that I injured my bad ankle stepping out of the campervan with no shoes on,m and was in pain for the rest of the day.
| | | |
| --- | --- | --- |
| | | |
| AG09 The Murray River at Cobram. | | AG07 The campervan at the campsite beside the Murray River at Cobram. |
AG08 Sam cutting wood beside the Murray River at Cobram.
---
09/05/2001 (193,635 to 193,888 km)
We left Cobram at about 10.15 after burning the remaining wood in the fire. We headed along the Murray River Highway to Wodonga, where we had a very nice deep-pan pizza and I bought a copy of the weekly Telegraph to get up to speed with what was happening back in the UK. After this we drove on past the very large (but largely empty) lake Hume eastwards to the small town of Corryong (just inside the Victorian border). The campsite was about a mile put of town, so in te evening we walked into town to have a meal and some drinks, and then staggered back to the campervan. The meal was prepared by a very nice Scotsman who regaled us with stories of his (seemingly rather drunken) life.
| | | |
| --- | --- | --- |
| | | |
| AG10 Lake Mulwala. | | AG13 Lake Hume. |
---
10/05/2001 (193,888 to 194,096 km)
We set off at about 09.30 and went to see Jack Riley's grave befogre going to the "Man from Snowy River Folk Museum" in Corryong, which was excellent with lots of information on his life along with the past lifestyles of people in this part of Australia. I normally expect such small museums to be fairly uninteresting, but this one had got the mixture of exhibits and information just right and I could easily have spent more time there. From the outside it just looks like a small wooden house, but it is very deep and extra buildings outside hold more exhibits. Unfortunately a large coach party arrived and so sam and I decided to leave before we got caught in the horde.
The scenery in this area is excellent, very beautiful and well worth visiting again. Unfortunately sam did not get to see much of the scenery as she was concentrating on keeping the campervan on the road around the winding corners. We then continued on to the Murray 1 Power Station where we had lunch and looked around the visitor centre. What followed had to be the windiest and steepest road that I have ever seen - the Alpine Highway which was only completely sealed last year. This road goes as high as 1,580 metres around Mount Koscuisko (Australia's highest mountain), before descending to the ski resort at Thredbo and the lake at Jindabyne. We then paused for a few minutes before heading east to a campsite at Cooma.
| | | |
| --- | --- | --- |
| | | |
| AG22 The Geehi camping area, Mount Kosciusko. | | AG17 The view from the Murray 1 power station viewpoint. |
| | | |
| --- | --- | --- |
| | | |
| AG26 The highest point of the Alpine Way near Thredbo. | | AG24 The road viewed from the Leatherbarrel Creek camping area. |
---
11/05/2001 (194,096 to 194,354 km)
We headed south from Cooma and then east along a plain at an altitude of over 1,000 metres. We then descended down to sea level at Bega. We topped in Bega for a lovely meal f fish and chips before heading south to the little seaside town of Eden. We spent a couple of hours in Eden looking around the fascinating Whale museum before having a coffee with scones and jam in a lovely cafe beside the harbour. We then headed south back over the border into Victoria and found a campsite in Mallacoota. Sam and I found it necessary to go to the pub in the evening, and we had a superb time taking part in a 'win your height in beer' competition.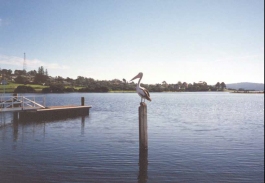 AG28 A Pelican on a pole at Mallacoota.
---
12/05/2001 (194,354 to 194,597 km)
We had an early morning look around Mallacoota and saw some lovely Pelicans by the harbour and chatted to a nice old couple who were fishing. We then drove around Mallacoota before heading back to the main road and then west to Cann River, where we stopped to have a snack - an ice cream for me and a coffee for Sam. A little problem with th fuel supply for the campervan soon became apparent, but by luck we managed to reach Orbost okay despite having driven over 45 kilometres with the fuel warning light on! After filling up with fuel we drove on to Lake's Entrance which looked to be very touristy and not that appealing, so we called in at the Tourist Information Office to look up where we could stay. We then drove on to Metung where we parked up to camp for the night. In the late afternoon we walked down to the main town by the hotel and jetty tp find a shop and do some reprovisioning. It was then a walk back up the hill to the campsite. This walk was enough to stop us from wanting to go back down te hill later on for a drink at the hotel, so we went to bed early for a long night's sleep.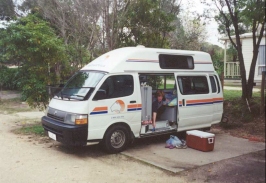 AG32 The campervan at Metung.
---
13/05/2001 (194,597 to 194,946 km)
We left the campsite in Metung at about 09.30 and went for a quick drive around the little village before heading north up to Highway 1. We the headed west along the highway to Barnsdale and Sale, where we visited the Tourist Information Office. We then headed south before heading east along minor roadds to Golden Beach, which is situated on the Ninety Mile Beach. From there we headed southwest to Seaspray and on to Yarram, where we had a late lunch. before heading west through Welshpool and Foster and then south to the lovely Tidal River on Wilson's Promontory.
| | | |
| --- | --- | --- |
| | | |
| AG34 Looking east along Ninety Mile Beach near the Honeysuckles. | | AG35 Looking west along Ninety Mile Beach near the Honeysuckles. |
---
14/05/2001 (194,946 to 195,121 km)
We went for an enjoyable early morning walk along the beach at Tidal River before having a barbequed breakfast and a shower. We then headed north to Fish Creek where we had a coffee and a bag of crisps. From here we drove west to Phillip Island, initially stopping at Cape Wollamai Surf Beach to watch the surfers.
From there we headed to the Penguin Parade on the western tip of the island, but the Parade did not happen until dusk and the whole attraction seemed overpriced for what it was, so we decided not to come back for te parade itself. Inside the visitor centre there was an area where Penguin nestboxes had been set up with perspex lids, and in one of these there was a baby penguin snuggled up.
From here we drove to th Phillip Island Wildlife Park, where we got to feed Red and Grey Kangaroos, Wallabies, Emus, Red Deer and Wombats. We even got to see Koalas that were actually moving, and I was impressed by how fast Tasmanian Devils could run. We saw Eagles and Hawks which had large runs to fly down, which was nice to see. 1
Once we had washed off all the Wallaby saliva from our hands and drove to the campsite before heading back into the town of Cowes for a few drinks and a meal at the hotel.
| | | |
| --- | --- | --- |
| | | |
| AH00 The beach at Tidal River. | | AH05 Some Wallabies. |
| | | |
| --- | --- | --- |
| | | |
| AH02 Cape Woolamai Beach, Philip Island. | | AH25 Some Wallabies. |
| | | |
| --- | --- | --- |
| | | |
| AH23 Three Koalas. Awake for once. | | AH18 A Wombat. |
| | | |
| --- | --- | --- |
| | | |
| AH11 Grey and Red Kangaroos. | | AH13 Sam feeding a Grey Kangaroo. |
| | | |
| --- | --- | --- |
| | | |
| AH15 A Joey. | | AH09 A Tasmanian devil. |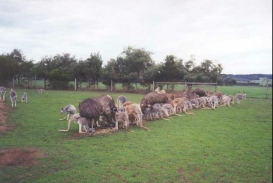 AH10 Feeding time! Emus, Grey and Red Kangaroos and Red Deer.
---
15/05/2001 (195,121 to 195,271 km)
We went to Seal Rock's to see the Seal's that were not there (a bit like yesterday at the Penguin Parade where there were no Penguins, bar the one being incubated). We then went east across the island to San Remo, where we saw the Pelican's getting fed, which happens daily at 11.00. There was an extra bonus of seeing some Stingray's, which was fantastic.
From san Remo we drove north to Emerald, where we saw Amber, Sam's friend, at the nursery where she works before meeting Jade for lunch. We then went to see another of Sam's friends, Tamara, and her son Riley for a few hours before heading off to the pub for a quick drink. We then went to Amber and Jade's house in Emerald for a very pleasant evening.
| | | |
| --- | --- | --- |
| | | |
| AH35 A Stingray. | | AH29 Feeding the Pelicans. |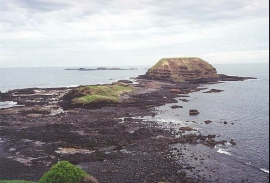 AH27 Seals Rocks on Philip Island.
---
16/05/2001 (195,271 to 195,374 km)
We left Jade and Amber's at about 09.00 and went to see Ruth and her family, who were busy concreting the floor of their new shed. We then drove back to Melbourne to unload and clean the campervan. At about 13.00 we started the drive back to the van rental center, but on the way we got sideswiped by a lady in a car. Fortunately the damage to our van was not that great, but her car had two panels damaged. Afterwards Sam's dad picked us up, and we went for a quick pint at his local before going home.
---
17/05/2001
We spent almost all of today at Sam's house, resting after the journey. Sam in particular is quite tired, which is to be expected after the amount of driving that she did.
---
18/05/2001
Sam drove us into Melbourne, parking at the Crown Complex. We then walked past the Aquarium and into the centre. Unfortunately Sam was not feeling very well, so we cut short the day after a few hours and went back to her house early.
---
19/05/2001
This was a lazy day spent at Sam's place.